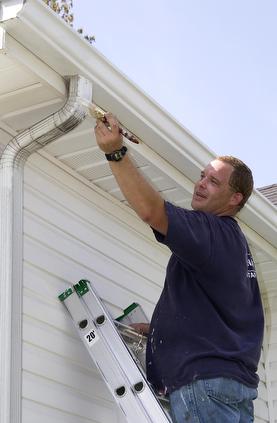 What should I do to the interior & exterior of my property, before I list it for sale?
 
Exterior
First impressions really do count. If the impact of your curb appeal is strong, people will want to see what is inside.
-  Cut and trim the shrubs.
-  Remove dead tree limbs and other yard debris.
-  Brighten up the garden with fresh shrubs and flowers.
-  Get rid of the clutter. Put away toys and gardening equipment.
-  Touch up peeling paint on doors, siding, and trim.
-  Repair and paint the fence.
-  Fix damaged roof shingles and flashing.
-  Clean windows, replace broken panes, and fix torn screens.
-  Clean gutters and downspouts.
-  Wash the driveway and sidewalk. Patch cracks or holes.
-  Clean up the garage and shed.
-  Have the gas grill ready for use.
-  Make sure outside lights and doorbells work.
Interior
Every room should look as spacious, bright, and warm as possible. 
-  Wash walls, ceilings, and trim. Consider painting with light, neutral colours. Repair cracks.
-  Tighten loose knobs, towel racks, switch plates, and outlet covers.
-  Fix tight doors and windows, squeaky floorboards, and loose stair banisters.
-  Clean and repair caulking around tubs and sinks. Fix leaky faucets; remove water stains.
-  Clean and organize the basement and attic. (This is a good opportunity to throw out all the bits and pieces you don't want to move.)
-  Organize closets. Get rid of the clutter. Limit the number of items stored overhead or on the floor.
-  Clean out kitchen cabinets, and remove clutter from countertops.
-  Clean drapes, blinds, and curtains. Shampoo carpets, and wax floors.
-  Now's a good time to spray for bugs.
-  Arrange furniture to make rooms appear as spacious as possible.
-  Remove any items you're taking with you, such as chandeliers and mirrors.